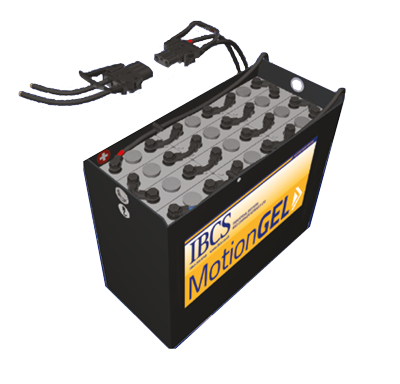 Motion Gel PZV Battery: This is a maintenance-free, valve regulated, gas recombination series of batteries. It has tubular positive plates and gel immobilised electrolyte. The new PZV range further enhances the IBCS product range available to the logistics and materials handling industries.
Applications
PzV batteries can be used for forklift trucks, cleaning machines and other electric vehicles.
Where maintenance-free operation is a must, either for practical or financial reasons.
Warehouse areas which are governed by strict emission regulations or where liquid electrolyte leakage would not be acceptable environmentally.
Low temperature storage facilities such as food, pharmaceutical or chemical products.
Storage areas with limited charging space or without specially equipped charging station.
Designed for medium and light duty applications. Where more demanding use is required, e.g. multi-shift, 80 Depth of Discharge and 8 hour recharge, the capacity should not exceed 600-650Ah for 24V, 350Ah for 48V, 200Ah for 80V batteries.
Technical Features and Benefits
Minimum maintenance cost: sealed battery and topping up is not required.
High Performance: tubular plate design ideal for deep cycling applications. PbCaSn lead alloy, suitable for VRLA battery.
High operational safety and long life: recombination valve with regulated internal pressure limits prevents high temperatures. GEL electrolyte prevents acid stratification during daily charge-discharge operation. Both prolong the life of the battery.
User and Environmental friendly: with the electrolyte in GEL form there is no acid leakage and no danger of corrosion and contamination.
Operational flexibility: very low gas emissions, low ventilation requirements, large expensive charging stations are not required. Operational temperature ranges from -10C to +40C.
Up to 1200 cycles at 60% DoD, with proper care and maintenance.
Alloys used are recyclable with lead poles with brass insert and M10 thread. Poles have copper connectors are bolt-on type and fully insulated.
Flexibility and interchangeability: corresponding dimensions and weight according to DIN and BS standards, safe and easy switch from old PzS to PzV battery.
High Performance: tubular plate design ideal for deep
Complete Product & Services package offering.
PSV - DIN PRODUCT RANGE
MOTION GEL DIN
Cell Type
Length (b)
Width (l)
Height 1
Height 2
Weight
2PZV110
198
47
342
371
8.8
3PZV165
198
65
342
371
12.3
4PZV220
198
83
342
371
15.8
5PZV275
198
101
342
371
19.3
6PZV330
198
119
342
371
22.9
7PZV385
198
137
342
371
26.4
MOTION GEL DIN
Cell Type
Length (b)
Width (l)
Height 1
Height 2
Weight
2PZV140
198
47
404
434
10.4
3PZV210
198
65
404
434
14.7
4PZV80
198
83
404
434
19.0
5PZV350
198
101
404
434
23.2
6PZV420
198
119
404
434
27.5
MOTION GEL DIN
Cell Type
Length (b)
Width (l)
Height 1
Height 2
Weight
2PZV160
198
47
459
489
11.8
3PZV240
198
65
459
489
16.7
4PZV320
198
83
459
489
21.6
5PZV400
198
101
459
489
26.5
6PZV480
198
119
459
489
31.4
MOTION GEL DIN
Cell Type
Length (b)
Width (l)
Height 1
Height 2
Weight
2PZV200
198
47
554
584
14.7
3PZV300
198
65
554
584
21.0
4PZV400
198
83
554
584
27.2
5PZV500
198
101
554
584
33.5
6PZV600
198
119
554
584
39.8
MOTION GEL DIN
Cell Type
Length (b)
Width (l)
Height 1
Height 2
Weight
2PZV240
198
47
672
702
17.0
3PZV360
198
65
672
702
24.2
4PZV480
198
83
672
702
31.4
5PZV600
198
101
672
702
38.6
6PZV720
198
119
672
702
45.8
MOTION GEL DIN
Cell Type
Length (b)
Width (l)
Height 1
Height 2
Weight
2PZV260
198
47
713
740
19.2
3PZV390
198
65
713
740
27.3
4PZV520
198
83
713
740
35.5
5PZV650
198
101
713
740
43.5
6PZV780
198
119
713
740
51.7
PSVB - BS PRODUCT RANGE
MOTION GEL BS
Cell Type
Length (b)
Width (l)
Height 1
Height 2
Weight
2PZVB104
158
46
401
428
8.4
3PZVB156
158
62
401
428
11.5
4PZVB208
158
77
401
428
14.6
5PZVB260
158
93
401
428
17.8
6PZV312
158
109
401
428
20.9
MOTION GEL BS
Cell Type
Length (b)
Width (l)
Height 1
Height 2
Weight
2PZVB122
158
46
454
484
8.3
3PZVB183
158
62
454
484
11.9
4PZB224
158
78
454
484
15.1
5PZVB300
158
93
454
484
20.5
6PZVB360
158
109
454
484
24.1
MOTION GEL DIN
Cell Type
Length (b)
Width (l)
Height 1
Height 2
Weight
2PZVB124
158
78
515
545
9.8
3PZVB213
158
62
515
545
13.7
4PZVB284
158
78
515
545
17.6
5PZVB284
158
93
515
545
23.1
6PZVB420
158
109
515
545
27.3
MOTION GEL BS
Cell Type
Length (b)
Width (l)
Height 1
Height 2
Weight
2PZVB170
158
46
610
640
11.4
3PZVB255
158
62
610
640
15.9
4PZVB340
158
78
610
640
20.7
5PZVB425
158
93
610
640
27.5
6PZVB510
158
109
610
640
32.4