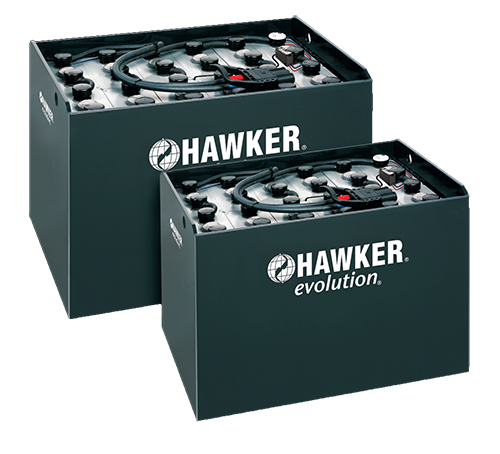 The Hawker® evolution is a new maintenance free valve regulated gas recombination battery with gelled electrolyte, accepting up to 80% DOD/C5. This PSV range complements the IBCS strong product range further to the logistics and materials handling industries.
Applications
PzV batteries can be used for forklift trucks, cleaning machines and other electric vehicles.
Warehouse areas which are governed by strict emission regulations or where liquid electrolyte leakage would not be acceptable environmentally.
Storage areas with limited charging space or without specially equipped charging station.
Where maintenance-free operation is a must, either for practical or financial reasons.
Designed for medium and light applications on a single shift operation.
For new applications a survey must be carried out by the IBCS Technical Team.
Technical Features & Benefits
The specialist make-up of the Hawker evolution gel battery not only prevents any acid leakage, but also ensures that there is no stratification of the acid during cycling.
The battery is maintenance free over the whole operational life; water topping up is not required. Through the internal oxygen circulation and the special charging regime, the very low gas emission permits decentralised charging of the truck or equipped machine, or makes the use of a simplified charging room possible. From this significant cost benefits arise, because of low investment and operational costs.
Minimum maintenance cost: sealed battery and topping up is not required.
User and Environmental friendly: with the electrolyte in GEL form there is no acid leakage and no danger of corrosion and contamination.
Operational flexibility: very low gas emissions, low ventilation requirements, large expensive charging stations are not required. Operational temperature ranges from -10C to +40C.
Flexibility and interchangeability: corresponding dimensions and weight according to DIN and BS standards, safe and easy switch from old PzS to PzV battery.
High Performance: tubular plate design ideal for deep cycling applications. PbCaSn lead alloy, suitable for VRLA battery.
High operational safety and long life: recombination valve with regulated internal pressure limits prevents high temperatures. GEL electrolyte prevents acid stratification during daily chargedischarge operation. Both prolong the life of the battery.
Alloys used are recyclable with lead poles with brass insert and M10 thread. Poles have copper connectors are bolt-on type and fully insulated.
Enersys Hawker Evolution Gel Din Standard
| | | | | | |
| --- | --- | --- | --- | --- | --- |
| Cell Type | Length (b) | Width ( I) | Height 1 | Height 2 | Weight |
| 2PzV84 | 47 | 198 | 275 | 305 | 6.9 |
| 3PzV126 | 65 | 198 | 275 | 305 | 9.7 |
| 4PzV168 | 83 | 198 | 275 | 305 | 12.4 |
| 5PzV210 | 101 | 198 | 275 | 305 | 15.3 |
| 6PzV252 | 119 | 198 | 275 | 305 | 18.1 |
| 7PzV294 | 137 | 198 | 275 | 305 | 20.9 |
| 8PzV336 | 155 | 198 | 275 | 305 | 23.7 |
| | | | | | |
| --- | --- | --- | --- | --- | --- |
| Cell Type | Length (b) | Width ( I) | Height 1 | Height 2 | Weight |
| 2PzV190 | 47 | 198 | 511 | 541 | 13.6 |
| 3PzV2285 | 65 | 198 | 511 | 541 | 19.4 |
| 4PzV380 | 83 | 198 | 511 | 541 | 25.2 |
| 5PzV475 | 101 | 198 | 511 | 541 | 31.0 |
| 6PzV570 | 119 | 198 | 511 | 541 | 36.9 |
| 7PzV665 | 137 | 198 | 511 | 541 | 42.6 |
| 8PzV760 | 155 | 198 | 511 | 541 | 48.5 |
| | | | | | |
| --- | --- | --- | --- | --- | --- |
| Cell Type | Length (b) | Width ( I) | Height 1 | Height 2 | Weight |
| 2PzV120 | 47 | 198 | 340 | 370 | 8.9 |
| 3PzV180 | 65 | 198 | 340 | 370 | 12.6 |
| 4PzV240 | 83 | 198 | 340 | 370 | 16.3 |
| 5PzV300 | 101 | 198 | 340 | 370 | 20.0 |
| 6PzV360 | 119 | 198 | 340 | 370 | 23.7 |
| 7PzV420 | 137 | 198 | 340 | 370 | 27.4 |
| 8PzV480 | 155 | 198 | 340 | 370 | 31.1 |
| | | | | | |
| --- | --- | --- | --- | --- | --- |
| Cell Type | Length (b) | Width ( I) | Height 1 | Height 2 | Weight |
| 2PzV220 | 47 | 198 | 570 | 600 | 15.1 |
| 3PzV330 | 65 | 198 | 570 | 600 | 21.6 |
| 4PzV440 | 83 | 198 | 570 | 600 | 27.9 |
| 5PzV550 | 101 | 198 | 570 | 600 | 34.3 |
| 6PzV660 | 119 | 198 | 570 | 600 | 40.8 |
| 7PzV770 | 137 | 198 | 570 | 600 | 47.1 |
| 8PzV880 | 155 | 198 | 570 | 600 | 53.6 |
| | | | | | |
| --- | --- | --- | --- | --- | --- |
| Cell Type | Length (b) | Width ( I) | Height 1 | Height 2 | Weight |
| 2PzV150 | 47 | 198 | 405 | 435 | 10.5 |
| 3PzV225 | 65 | 198 | 405 | 435 | 14.9 |
| 4PzV300 | 83 | 198 | 405 | 435 | 19.3 |
| 5PzV375 | 101 | 198 | 405 | 435 | 23.7 |
| 6PzV450 | 119 | 198 | 405 | 435 | 28.1 |
| 7PzV525 | 137 | 198 | 405 | 435 | 32.5 |
| 8PzV600 | 155 | 198 | 405 | 435 | 36.9 |
| | | | | | |
| --- | --- | --- | --- | --- | --- |
| Cell Type | Length (b) | Width ( I) | Height 1 | Height 2 | Weight |
| 2PzV250 | 47 | 198 | 685 | 715 | 19.8 |
| 3PzV375 | 65 | 198 | 685 | 715 | 27.6 |
| 4PzV500 | 83 | 198 | 685 | 715 | 35.6 |
| 5PzV625 | 101 | 198 | 685 | 715 | 43.8 |
| 6PzV750 | 119 | 198 | 685 | 715 | 51.9 |
| 7PzV875 | 137 | 198 | 685 | 715 | 60.0 |
| 8PzV1000 | 155 | 198 | 685 | 715 | 68.1 |
| | | | | | |
| --- | --- | --- | --- | --- | --- |
| Cell Type | Length (b) | Width ( I) | Height 1 | Height 2 | Weight |
| 2PzV174 | 47 | 198 | 475 | 505 | 12.5 |
| 3PzV261 | 65 | 198 | 475 | 505 | 18.0 |
| 4PzV348 | 83 | 198 | 475 | 505 | 23.2 |
| 5PzV435 | 101 | 198 | 475 | 505 | 28.5 |
| 6PzV522 | 119 | 198 | 475 | 505 | 33.8 |
| 7PzV609 | 137 | 198 | 475 | 505 | 39.0 |
| 8PzV696 | 155 | 198 | 475 | 505 | 44.4 |
| | | | | | |
| --- | --- | --- | --- | --- | --- |
| Cell Type | Length (b) | Width ( I) | Height 1 | Height 2 | Weight |
| 2PzV800 | 47 | 198 | 720 | 750 | 20.3 |
| 3PzV420 | 65 | 198 | 720 | 750 | 28.6 |
| 4PzV560 | 83 | 198 | 720 | 750 | 36.9 |
| 5PzV700 | 101 | 198 | 720 | 750 | 45.2 |
| 6PzV840 | 119 | 198 | 720 | 750 | 53.7 |
| 7PzV980 | 137 | 198 | 720 | 750 | 62.1 |
| 8PzV1120 | 155 | 198 | 720 | 750 | 70.4 |
Enersys Hawker Evolution Gel British Standard
| | | | | | |
| --- | --- | --- | --- | --- | --- |
| Cell Type | Length (b) | Width ( I) | Height 1 | Height 2 | Weight |
| 2PzVB134 | 45 | 157.5 | 511 | 541 | 11.1 |
| 3PzVB201 | 61 | 157.5 | 511 | 541 | 15.2 |
| 4PzVB268 | 77 | 157.5 | 511 | 541 | 19.4 |
| 5PzVB335 | 93 | 157.5 | 511 | 541 | 23.6 |
| 6PzVB402 | 109 | 157.5 | 511 | 541 | 27.7 |
| 7PzB469 | 125 | 157.5 | 511 | 541 | 32.0 |
| | | | | | |
| --- | --- | --- | --- | --- | --- |
| Cell Type | Length (b) | Width ( I) | Height 1 | Height 2 | Weight |
| 2PzVB162 | 45 | 157.5 | 612 | 642 | 12.9 |
| 3PzVB243 | 61 | 157.5 | 612 | 642 | 17.9 |
| 4PzVB324 | 77 | 157.5 | 612 | 642 | 22.7 |
| 5PzVB405 | 93 | 157.5 | 612 | 642 | 27.6 |
| 6PzB486 | 109 | 157.5 | 612 | 642 | 32.6 |
| 7PzVB567 | 125 | 157.5 | 612 | 642 | 37.5 |