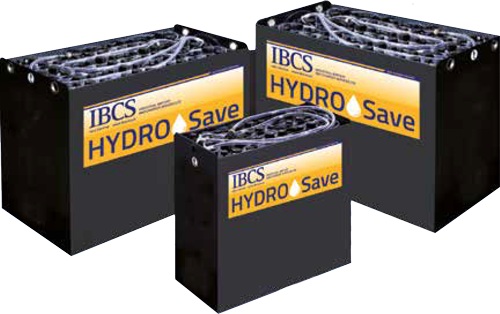 Technical Features and Benefits
Lower total cost of ownership Compared to conventional systems
Equivalent design life and performance Compared to conventional DIN design motive power batteries
Reduced maintenance costs: 8 weeks water topping-up interval that can be extended up to 13 weeks
Tested and reliable solution
Peace-of-mind Through IBCS Nationwide care and service back-up
Why use the Hydrosave Series
Water refilling is a time consuming part of battery maintenance. The watering interval depends on two main factors:
ACID RESERVE VOLUME OF THE BATTERY
In the Hydrosave's innovative, state of art design, the electrolyte volume is increased. This means watering intervals are minimised, reducing maintenance cost.
WATER LOSS PER CYCLE PER WEEK
Water loss is the result of water decomposition (electrolysis) which is directly proportional to the charging factor.
Conditions: The topping up intervals are based on 80%DoD – 5 cycles per week The following charging factors are considered:
1.10 to 1.12 for the Sunlight HF pulse charger
1.07 for the Fronius HF charger
1.2 for the conventional (50 Hz) charger
Watering Intervals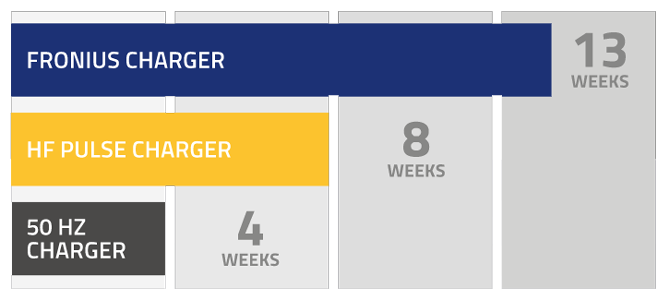 HYDRO SAVE DIN PRODUCT RANGE
| Cell Type | Length (b) | Width (l) | Height 1 | Height 2 | Weight |
| --- | --- | --- | --- | --- | --- |
| 2PZW230 | 198 | 47 | 542 | 572 | 14.1 |
| 3PZW345 | 198 | 65 | 542 | 572 | 18.7 |
| 4PZB168 | 198 | 83 | 542 | 572 | 25.1 |
| 5PZB210 | 198 | 101 | 542 | 572 | 30.2 |
| 6PZB252 | 198 | 119 | 542 | 572 | 35.4 |
| 7PZB294 | 198 | 137 | 542 | 572 | 41.3 |
| 8PZB336 | 198 | 155 | 542 | 572 | 47.0 |
| 8PZB336 | 198 | 173 | 542 | 572 | 52.3 |
| 8PZB336 | 198 | 191 | 542 | 572 | 58.2 |
| Cell Type | Length (b) | Width (l) | Height 1 | Height 2 | Weight |
| 2PZW250 | 198 | 47 | 569 | 599 | 14.8 |
| 3PZW250 | 198 | 65 | 569 | 599 | 20.4 |
| 4PZW500 | 198 | 83 | 569 | 599 | 26.4 |
| 5PZW625 | 198 | 101 | 569 | 599 | 32.7 |
| 6PZW875 | 198 | 119 | 569 | 599 | 39.1 |
| 7PZW875 | 198 | 137 | 569 | 599 | 43.6 |
| 8PZW1000 | 198 | 155 | 569 | 599 | 51.4 |
| 9PZW1000 | 173 | 157 | 569 | 599 | 57.1 |
| 10PZW1250 | 191 | 173 | 569 | 428 | 63.3 |
| Cell Type | Length (b) | Width (l) | Height 1 | Height 2 | Weight |
| 2PZW180 | 198 | 47 | 464 | 494 | 11.8 |
| 3PZW270 | 198 | 65 | 464 | 494 | 16.7 |
| 4PZW360 | 198 | 83 | 464 | 494 | 21.5 |
| 5PZW450 | 198 | 101 | 464 | 494 | 26.5 |
| 6PZW540 | 198 | 119 | 464 | 494 | 36.0 |
| 7PZW630 | 198 | 137 | 464 | 494 | 36.0 |
| 8PZW720 | 198 | 155 | 464 | 494 | 41.1 |
| 9PZW180 | 198 | 173 | 464 | 494 | 45.9 |
| 10PZW900 | 198 | 191 | 464 | 494 | 50.9 |
| Cell Type | Length (b) | Width (l) | Height 1 | Height 2 | Weight |
| 2PZW280 | 198 | 47 | 633 | 713 | 16.0 |
| 3PZW420 | 198 | 65 | 633 | 713 | 23.0 |
| 4PZW560 | 198 | 83 | 633 | 713 | 30.1 |
| 5PZW700 | 198 | 101 | 633 | 713 | 37.0 |
| 6PZW840 | 198 | 119 | 633 | 713 | 44.7 |
| 7PZW980 | 198 | 137 | 633 | 713 | 50.7 |
| 8PZW1120 | 198 | 155 | 633 | 713 | 58.0 |
| PPZW1120 | 198 | 173 | 633 | 713 | 64.7 |
| 10PZW1400 | 198 | 191 | 633 | 713 | 72.0 |
| Cell Type | Length (b) | Width (l) | Height 1 | Height 2 | Weight |
| 2PZW210 | 198 | 47 | 511 | 541 | 13.2 |
| 3PZW315 | 198 | 65 | 511 | 541 | 18.7 |
| 4PZW420 | 198 | 83 | 511 | 541 | 24.3 |
| 5PZW525 | 198 | 101 | 511 | 541 | 29.7 |
| 6PZW630 | 198 | 119 | 511 | 541 | 35.3 |
| 7PZW735 | 198 | 137 | 511 | 541 | 40.8 |
| 8PZW840 | 198 | 155 | 511 | 541 | 46.3 |
| 9PZW945 | 198 | 173 | 511 | 541 | 51.8 |
| 10PZW1050 | 198 | 191 | 511 | 541 | 57.3 |
| Cell Type | Length (b) | Width (l) | Height 1 | Height 2 | Weight |
| 2PZW280 | 198 | 47 | 714 | 744 | 17.5 |
| 3PZW420 | 198 | 65 | 714 | 744 | 25.5 |
| 4PZW620 | 198 | 83 | 714 | 744 | 33.8 |
| 5PZW775 | 198 | 101 | 714 | 744 | 39.6 |
| 6PZW930 | 198 | 119 | 714 | 744 | 48.0 |
| 7PZW1085 | 198 | 137 | 714 | 744 | 55.6 |
| 8PZW1240 | 198 | 155 | 714 | 744 | 63.0 |
| 9PZW1395 | 198 | 173 | 714 | 744 | 70.2 |
| 10PZW1550 | 198 | 191 | 714 | 744 | 78.3 |
HYDRO SAVE BS PRODUCT RANGE
| Cell Type | Length (b) | Width (l) | Height 1 | Height 2 | Weight |
| --- | --- | --- | --- | --- | --- |
| 2PZWB150 | 158 | 47 | 515 | 545 | 9.6 |
| 3PZWB225 | 158 | 63 | 515 | 545 | 13.3 |
| 4PZWB300 | 158 | 78 | 515 | 545 | 17.1 |
| 5PZWB375 | 158 | 94 | 515 | 545 | 20.8 |
| 6PZWB450 | 158 | 110 | 515 | 545 | 24.5 |
| 7PZWB525 | 158 | 126 | 515 | 545 | 28.2 |
| 8PZWB600 | 158 | 142 | 515 | 545 | 32.0 |
| 9PZWB675 | 158 | 158 | 515 | 545 | 35.8 |
| 10PZWB750 | 158 | 174 | 515 | 545 | 39.6 |
| 11PZWB825 | 158 | 190 | 515 | 545 | 43.4 |
| 12PZWB900 | 158 | 206 | 515 | 545 | 47.1 |
| Cell Type | Length (b) | Width (l) | Height 1 | Height 2 | Weight |
| 2PZW200 | 158 | 47 | 600 | 630 | 11.9 |
| 3PZW300 | 158 | 63 | 600 | 630 | 16.7 |
| 4PZW400 | 158 | 78 | 600 | 630 | 21.5 |
| 5PZW500 | 158 | 94 | 600 | 630 | 26.2 |
| 6PZW600 | 158 | 110 | 600 | 630 | 30.9 |
| 7PZW700 | 158 | 126 | 600 | 630 | 35.7 |
| 8PZW800 | 158 | 142 | 600 | 630 | 40.5 |
| 9PZW900 | 158 | 158 | 600 | 630 | 45.3 |
| 10PZW1000 | 158 | 174 | 600 | 630 | 50.1 |
| 10PZW1100 | 158 | 190 | 600 | 630 | 54.9 |
| 10PZW1200 | 158 | 206 | 600 | 630 | 59.6 |