Each battery has its advantages and disadvantages, it is therefore important to choose the right battery for the application. Advantages of gel batteries:
Full recovery from deep discharge, even when the battery is not recharged immediately.
Ideal for repeat cycling, daily use
Excellent performances over long discharges
Good tolerance to higher temperature applications
Suitable where main power is unstable
High resistance to water loss with the right charging setup
Ultra stable polymer separator with glass mat for increased performance
Limiting design protects the positive plates to greatly improve cycle lift
Improved charge acceptance due to low internal resistance
Can be discharged even when full recharge has not been achieved, without loss of battery capacity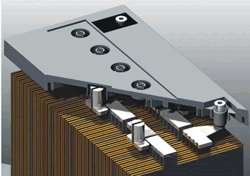 Construction
Gel battery construction is shown in the picture above. The positive and negative grids are cast from a calcium/tin lead alloy to reduce grid growth and corrosion. The active material is manufactured from a high purity lead (99.9999%) to minimize the negative effects on impurities.
Separator is manufactured by a world leader in the field, utilizing the latest German technology. The base material is a microporous duroplastic exhibiting excellent high temperatures stability and mechanical strength, resulting in a very good resistance to vibration and mechanical shock. The integrity of the battery will be maintained under extreme conditions. The purpose of the separator is to maintain a constant distance between the positive and negative plates, totally eliminating the possibility of short circuits whilst allowing the active materials to filly react with the gelled electrolyte.