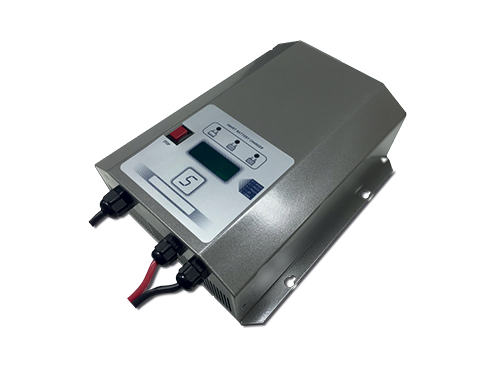 ON-BOARD or STAND ALONE use: Lightweight, Compact, Customisable, universal input.
Technical Features
A high frequency charger with advanced technology.
The charging process is fully controlled by microprocessor.
Efficiency of ≥ 90%.
Visual Lit display shows, charging current, battery voltage and charging time, of charge supplied in Ah and of the energy absorbed in KWh.
Charging curve can be changed using dip switches. There are 16 standard pre-programed curves for lead-acid, Gel and AGM batteries. Other curves are available on request for other battery types, including Li-Ion and Li-Po.
Battery voltage and charging current can be changed using dipswitches.
The charging process starts in soft start mode and is automatically reset when a new battery is connected.
Charge cycles begin with batteries as low as 2volts.
Protects against anomalies including reverse polarity, short circuits, or over voltages.
Thermal insulation protects against overheating.
Equipped with NC (normally closed) delay for safety interlock connections (only with on-board installation).
Operating temperature range: -10°C ÷ 45°C (14°F 113°F).
Maximum relative humidity: 90%.
International Protection rating IP30 with forced ventilation.
Stop button on the front panel.
Relevant information giving the last 30 charging cycles (shows duration of the charging cycle, Ah's delivered by the battery, voltage at the end of the charge and the possible error messages).
| PRODUCT CODE | VOLTAGE | OUTPUT | MAINS (VAC) | 8HR RECHARGE | 12HR RECHARGE | DIMENSIONS | WEIGHT |
| --- | --- | --- | --- | --- | --- | --- | --- |
| XPHK-12-35 | 12 | 35 | 110-230 | 180-220 | 250-320 | 270X255X97 | 2.5 |
| XPHK-12-40 | 12 | 40 | 110-230 | 220-260 | 285-360 | 270X255X97 | 2.5 |
| XPHK-24-35 | 24 | 35 | 110-230 | 180-220 | 250-320 | 270X255X97 | 2.5 |
| XPHK-24-40 | 24 | 40 | 110-230 | 220-260 | 295-360 | 270X255X97 | 2.5 |
| XPHK36-30 | 36 | 30 | 110-230 | 145-180 | 200-280 | 270X255X97 | 2.5 |
| XPHK-48-22 | 48 | 22 | 110-230 | 105-140 | 150-220 | 270X255X97 | 2.5 |